3PB Family Law team promoted to TOP TIER in three Legal 500 categories
4th October 2023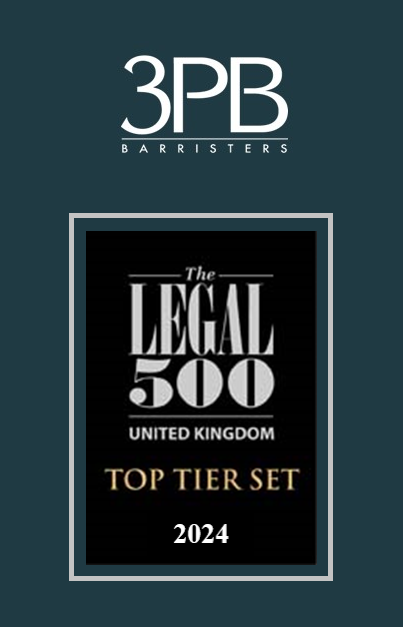 3PB's Family Law team now tops 3 categories in the Legal 500.
The team has been awarded TOP TIER – in the Midlands, for Family: children and domestic violence and for Family: divorce and financial remedy as well as TOP TIER – in the Western circuit for Family: children and domestic violence. The Western team's family finance barristers are awarded tier 2.
36 of our family barristers have been awarded a total of 51 rankings across 4 Circuits (in London, the Midlands, South Eastern and Western). From our Silks to our junior juniors, the Legal 500 has acknowledged the breadth, depth and levels of seniority within our team, and with 12 new rankings, the next generation of excellent 3PB family barristers is well and truly on its way.
Our team is praised by clients as "an 'exceptional set' that houses a 'broad range of counsel' specialising in all areas of family law." with '3PB Chambers [is] an amazing set of chambers: friendly, efficient and very well respected as an outstanding set both locally and nationally.' as well as 'A fabulous chambers with great selection of barristers for all types of matters.'
"The service of the clerks is excellent and they are polite, efficient, most helpful and always friendly. They will bend over backwards to help fit the requested and most suitable counsel for the instructions." 'The clerks at 3PB are always very helpful and prompt in responding to any queries. Ian Charlton is a stand-out member of the team.' and "Rob Leonard is amazing and nothing is too much trouble.'
Head of 3PB Family Team Vanessa Meachin KC commented: "I am delighted that our team and its individual members have been recognised in this way for their talent and the tireless, excellent work they put in for our instructing solicitors, the parties they represent day in day out. Our grateful thanks to the clients and referees who help us achieve this recognition and to our clerks for their unwavering support."
Profiles for our 36 ranked barristers can be found here Elizabeth McGrath KC, Vanessa Meachin KC, Lucy Hendry KC, Adeo Fraser, Aimee Fox, Amy BeddisAmy BeddisCall: 2009, Amy Lush, Andrew Duncan, Elaine Strachan, Eleanor Marsh, Elisabeth Hudson, Emma GriffithsEmma GriffithsCall: 1998, Emma Harman, Emma Southern, Gemma Chapman, Hamish DunlopHamish DunlopCall: 1991, James Legg, Laura Scott, Lawrence Messling, Lucy Clayton, Luke Nelson, Mark Elliott, Michael GeorgeMichael GeorgeCall: 1990, Nathalie Bull, Nicola Brown, Nicola Frost, Nicola Martin, Oliver Thorne, Poonam Bhari, Rachel Bloxwich, Sam Pentony, Sarah Jennings, Sarah O'Hara, Stephen AbberleyStephen AbberleyCall: 2000, Steven Howard and Suzanne Coleclough.
Click here to view the Family team's full results.