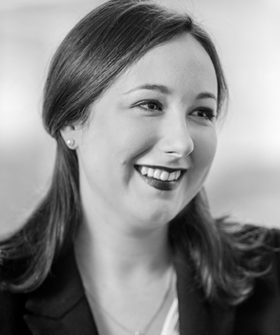 Aimee Fox
Year of Call: 2007
Email Address: aimee.fox@3pb.co.uk
Telephone: 020 7583 8055

Family
Finance
Aimee has extensive experience family finance and cohabitation disputes. Aimee is often instructed to represent parties where there are arguments involving inherited wealth or pre- or post-relationship acquired assets. Aimee has been instructed on cases where there are disputes concerning companies, trusts, partnerships, third party interests, non-disclosure, inheritance and pre-acquired wealth.
Aimee has been involved with a number of more complex matters including cases involving the Proceeds of Crime Act 2002 and personal injury awards. She has also been able to call upon her expertise in the law of special educational needs (SEN) to assist in advising separating spouses whose children require bespoke accommodation or additional care.
Aimee is also happy to provide representation in private FDRs and Early Neutral Evaluations.
Cases:
Recent cases Aimee has been instructed on include:
W v W: A civil partnership dispute in which the assets were worth several million pounds and included a large property portfolio and a very high value share portfolio. Arguments also involved financial liabilities abroad.
B v S: Financial remedy proceedings with concurrent proceedings in the Crown Court with the matrimonial assets at risk because of a Proceeds of Crime Act application by the Crown Prosecution Service.
D v D: Financial remedy proceedings made complicated as a result of the application having been made some 15 years after the end of the marriage.
F v F: Final hearing of committal application for failure to comply with orders and provide disclosure in financial remedy proceedings.
Private Law Children, Injunction and Domestic Abuse
Aimee regularly appears at all stages of private law disputes including arguments about special guardianship orders. She represents parents, children and grandparents.
Aimee is regularly instructed in complex proceedings involving children which include allegations of physical and emotional abuse, sexual abuse, domestic violence and parental alienation. Aimee is well equipped to handle applications where there has been social work involvement after spending a number of years representing parties in public law care proceedings.
Aimee's expertise in education law allows her to excel in applications involving children with special educational needs (SEN), mental health diagnoses or disability. This allows her to provide advice on applications involving schooling.
Aimee is experienced in representing parties involved in disputes where there is expert evidence. In her areas of practice, she has cross-examined psychologists including educational psychologists, psychiatrists, occupational therapists, speech and language therapists, physiotherapists as well as teachers.
She has experience of internal and international relocation cases and has provided training to solicitors on pursuing and defending relocation applications. Aimee has an LLM in European Law which makes her particularly adept in this area. Prior to joining the Bar she completed prestigious internships at the British Institute of International & Comparative Law and the International Bar Association.
Aimee has been commended for her personable manner and client focused approach. She always seeks to find pragmatic and cost-effective solutions for her clients.
Cases:
Recent cases Aimee has been instructed on include:
H v H: International relocation case to Romania.
P v B v P: Private law proceedings in which the child had been subject to lengthy litigation and numerous appeals in Poland. Jurisdictional issues arose as well as consideration of the legal effect of orders made in Poland.
D v H v I: Lengthy private law proceedings with arguments on parental alienation and residence as well as special guardianship and the applicability of a section 91(14) barring order. There was involvement from NYAS.
A v C: Appeal in private law proceedings arising from the court's decision to transfer residence.
D v D: Private law proceedings requiring the court's determination in respect of the child's medical treatment and schooling.
B v R: Private law proceedings involving multiple experts from various fields.
Remote FDR Hearing Service
Aimee is available for private remote FDR hearings. For more information on private remote FDR hearings please click here.
'Efficient, thorough, analytical and persuasive. Absorbs information quickly and clearly sets out the options and risks. Very good advocate in court and tribunals. Well-prepared and presents very well both in terms of oral advocacy and documents drafted. Able to deal with complex issues including judicial reviews.'
"Aimee Fox successfully defending Wolverhampton City Council in a judicial review matter against allegations that it failed in its duty under section 19(1) of the Education Act 1996, to provide education services to the claimant."
Legal 500 2021/Leading Individual – Education/London Bar

"3PB's Aimee Fox is a 'fountain of knowledge when it comes to special educational needs law', with a practice that covers advice to both schools and parents."
'Thorough in her preparation, clear and concise in her advice, and inspires confidence in clients.'
Legal 500 2021/Leading Individual – Education/Midlands

'An excellent advocate who is extremely capable in both financial remedy and private children proceedings.'
Legal 500 2021/Leading Individual – Child law (public and private)/Midlands
Legal 500 2021/Leading Individual – Divorce and financial proceedings/Midlands


'She is extremely approachable, thorough, pragmatic and realistic.'
Legal 500 2020/Leading Individual – Education

'Recommended for cases involving children with special educational needs.'
Legal 500 2020/Leading Individual – Family/Matrimonial Midlands

"I have already had an email from the client saying how wonderful you were and would just like to thank you again" – Partner at law firm

"Aimee is thorough and determined" – Partner at leading law firm

"An excellent outcome! Our client said that you were fantastic at court and is happy with the outcome" – Associate Solicitor

"A brilliant outcome!" – Associate Solicitor

Expand recommendations
View Full CV
Academic qualifications
College of Europe Bruges: LLM European Community Law
Inns of Court School of Law: BVC, Very Competent
Queen's University Belfast: LLB Law and French, 2:1
Université Lyon III, Diplome d'Etudes Françaises
Scholarships
Lincoln's Inn European Education Award
Sunley Scholarship, Lincoln's Inn
QUB Award for Distinction in Oral French
Professional bodies
Education Law Association
Lincoln's Inn Denning Society
Bar Free Representation Unit
Family Law Bar Association
Direct Access
Aimee Fox is qualified to accept instructions directly from members of the public and professional clients under the Direct Public Access scheme.
More Information