New blog from 3PB's pupils - June 2020
3PB's pupils present a collection of articles written during the coronavirus pandemic.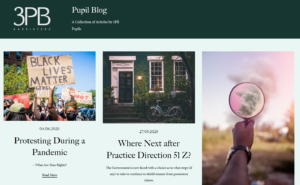 Compulsory pupillage application
3PB recruits all pupils for the compulsory pupillage leading to a final practicing certificate through the Gateway, whether that be for the full twelve months or with waivers/reduced requirements.  Applications may only be accepted through the Gateway. We aim to recruit up to four or five pupils annually. You must have had your final year university exam results to apply.
Vacancies may be based in any of our six locations:  London, Birmingham, Bournemouth, Bristol, Oxford or Winchester. Pupils are asked for their location preference(s), if any but cannot be guaranteed that any offer will be at their preferred location. Chambers will be as flexible as possible.
3PB have completed its interviewing of candidates and are pleased to announce the following recruits for 2022, both from the Gateway selection and the Butterfield criminal pupillage:
Olivia McGonigle, Western Circuit Butterfield Criminal Law Pupil (starting October 2021)
Angel Matoke-Njagi, Bournemouth
Poppy Watson, London
Emma Greening, Oxford
Liz Adams, Birmingham
Watch Head of Pupillage Cheryl Jones describing the opportunities for pupils at 3PB
Read 3PB's essential guide to completing a successful pupillage application here
Watch a selection of 2020 and 2021 pupils and future pupils talk about how to apply for and interview for pupillage and what happens as a pupil at 3PB:
Find out more about the life of a barrister and about options through your career – such as achieving a judicial appointment, becoming an author or taking silk – from the people who've done it.
You'll 'meet' a selection of 3PB barristers from the very junior to the most top ranking silks and hear about how their careers have developed over time.
Watch our video about what remuneration, training and other benefits to expect from 3PB
3PB pupils
3PB recruits on merit. We typically recruit four/five pupils every year across Chambers. We welcome you into Chambers at our Pupil Symposium both in the year you are recruited and also just before you commence your pupillage year, so that you can begin to build relationships with each other and with members of Chambers.
Pupils' progress is monitored closely by the supervisor and the Head of the Pupillage Committee, Cheryl Jones. Pupils will have between three and five different pupil supervisors over the year, depending on the kind of work they wish to do.  Pupils are encouraged do written and research work for as many members of 3PB as possible in order to gain maximum experience of different styles of work.  Formal feedback is given for each piece of work undertaken to enable the pupil to track their progress and identify strengths and weaknesses.
Second Six
3PB second six pupils undertake a great deal of court work, whilst their education continues with their pupil supervisor and Chamber's own programme.  We expect our pupils to be in court two to three days each week in a variety of courts.
Pupil Training
In addition to the Bar compulsory external education, each pupil is required to undertake Chamber's internal training programme which includes practical assistance in accounting, document/presentation and IT skills as well as quarterly internal advocacy exercises.  It is of great importance to us that each pupil feels properly supported during what can be a challenging, albeit exciting, year and we do all that we can to ensure this.  This continues after pupillage as 3PB supports junior tenants in the early years of their practice and we run a mentoring scheme in each of our locations, as well as programmes to assist those who wish to seek judicial posts, silk or become part of the Attorney General's panel.
Click here to find out more about the journey through pupillage at 3PB
What remuneration can you expect as a pupil at 3PB
Requirements
Applicants should be able to demonstrate intellectual ability, excellent communication/advocacy skills, and an ability to work under pressure as well as flexibility of thinking, sound judgement and good interpersonal skills. It is also desirable for candidates to be able to demonstrate an interest in and commitment to specialist practice and achievements beyond educational.
Funding at present is £15,000 award in the first six (non-taxable) and £15,000 guaranteed earnings. This is presently under review.
3PB Pupillage Advantages
We offer our pupils:
Close monitoring
Significant court work
Full IT provision with dedicated email and direct fax address
Travel expenses for travel on Chambers' business
Regular internal training and two annual symposia ["Welcome" and "On your feet"]
Attendance at relevant training courses, funded by Chambers
"Life swaps" with pupils from other Centres
The "merry-go-round" structured training days in all other centres
Interest free loans
Access to a formal grievance procedure
Support and encouragement.
Selection
We select pupils on ability and potential alone, without regard to disability, gender, race, age, and sexual orientation or political affiliation.  Our selection process aims to be rigorous and fair, and to comply with the Bar Council Pupillage Guidelines and Equality Code.  We will make reasonable adjustments for any person with a disability or who has caring responsibilities.  Our initial paper sift is anonymous and we disregard which university was attended.  We also disregard A Level results.  However, we place great weight on intellectual ability and achievement and it is unlikely that you will be chosen for a first interview unless you can demonstrate this.
For any queries about pupillage at 3PB please don't hesitate to contact us by emailing pupillage@3pb.co.uk.
Third six pupillages
If you are interested in a third six pupillage, please download and fill in our application form, clearly stating the main practice group in which you are interested and in which of our centres you would prefer to be located. All third six pupils will be fully supervised and assessed.  We aim to recruit third six pupils of a calibre to be considered for tenancy at the end of their pupillage, although we do not guarantee a tenancy.
Pupils looking for tenancy
We will consider applications for tenancy from pupils who are completing (or who have already completed) a pupillage and have gained advocacy and paperwork experience.  It is more usual, however, to offer such applicants a third six pupillage rather than tenancy.
Application for Third Six pupillages should be emailed to pupillage. All other pupillages, including shortened pupillages, will be dealt with via the Gateway.
very user-friendly
Chambers and Partners