Specialist education law barristers present SEND mock tribunal
27th January 2022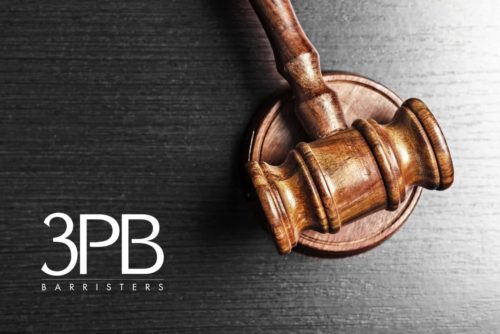 Five barristers from 3PB's specialist education law team recently joined forces with Oxfordshire County Council to host a SEND mock tribunal as part of a training session.
Barristers Lachlan Wilson, Katherine Anderson, Matthew Wyard, Jennifer Agyekum and Naomi Webber presented the mock tribunal to over 80 attendees.
3PB's education law team represents parents, pupils, schools, and their governing bodies (both from the maintained and the independent sectors), academies, universities and colleges, NGOs including charities, students, teaching & academic staff and local authorities in education law. Barristers also specialise in other complementary areas of law, notably public law, human rights, employment & discrimination and misconduct and compliance.
Lachlan Wilson is experienced in all areas of education, employment, and professional disciplinary law. He advises and represents individuals, employers, local authorities, schools, charities, and regulatory bodies.
The common theme to all Lachlan's practice areas is human behaviour and conduct which requires understanding and scrutiny, whether it is exhibited by a child requiring specialist SEN provision; an individual before disciplinary proceedings, or an employer or professional carrying out their duties towards organisations and individuals.
Katherine Anderson is an experienced education and employment law specialist who offers first class customer service, legal advice and advocacy. She accepts instructions from local authorities, schools, parents, young people, students and universities, as well as employers/employees in the education sector.
Matthew Wyard is a specialist public and regulatory law barrister. His public law practice focuses on education and community care/ court of protection. He is recognised as a Rising Star in the education field in the Legal 500. He acts for parents of disabled children, young people, students, schools, colleges, universities, local authorities and anyone else involved in disputes within the education sector.
Jennifer Agyekum has a well-established practice, successfully representing clients in the field of professional discipline and regulatory law. Focusing on defence, Jennifer has an excellent track record of positive outcomes in complex and sensitive cases.
Naomi Webber accepts instructions in all areas of civil law, with a particular interest in employment, education and public law. She has a growing education law practice, regularly advising and acting for parents, local authorities and schools.
3PB offer various education law seminars/training days and presentations to various local authorities and educational institutes. For more information about 3PB's regulatory and education law team and the training we offer, please contact Practice Director Chris Mitchell on chris.mitchell@3pb.co.uk or call him on 020 7583 8055.