David Parratt QC (Scot) and law firm Brodies talk of Brexit and the future of business disputes in Europe
13th April 2021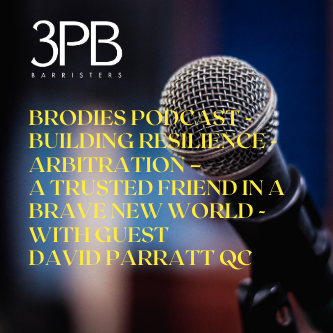 3PB's international arbitration expert David Parratt QC (Scot) joins forces with Ken MacDonald from law firm Brodies LLP to record a podcast for Brodies latest episode in their ''Building Resilience Series''.
In this podcast David Parratt and Ken MacDonald discuss what the impact of the UK's new relationship with the EU means for settling disputes and why businesses should be thinking about international arbitration as the best dispute resolution clause in contracts.
To instruct David Parratt QC (Scot)David Parratt QC (Scot)Call: 1999Silk: 2017 or to find out more about 3PB's specialist commercial, energy and construction arbitrators, please contact Chambers Director Mark Heath on mark.heath@3pb.co.uk or Practice Director Dave Fielder on david.fielder@3pb.co.uk by calling them on 0330 332 2633.
Listen to the Brodies LLP podcast here or visit the Brodies website to listen to the full series.