3PB Barristers (3 Paper Buildings) is a barristers' chambers located in the heart of Birmingham's professional services district at Colmore Square. 3PB Barristers in Birmingham provides local and international law firms, claims businesses, multinational businesses, SMEs and private client clients with quality legal advice or representation. From our Birmingham office you can access the whole range of legal services provided by 3PB and instruct any of our 220 barristers.
Jump to a section

---
About 3PB and 3PB's Birmingham office
3PB Barristers (3 Paper Buildings) in Birmingham's city centre provides local and international law firms, claims businesses, multinational and SMEs and private clients with the quality advice they need to succeed.
Our QCs and junior lawyers based in Birmingham have an enviable track record in winning cases and settling disputes favourably for our clients. We have some of the best barristers in the UK, as rated by the main legal directories, within our chambers. Our counsel and clerks have built long-term relationships with many of our clients both in Birmingham, the wider Midlands and nationally; so have developed an exceptional record of repeat instructions, deep understanding of different organisations or individuals, and we offer innovative solutions to your most pressing legal and court room challenges that save time and money, help you to manage risks and wherever possible, open up new opportunities.
Key contacts
Senior barristers and QCs in Birmingham are Elizabeth McGrath QCElizabeth McGrath QCCall: 1987Silk: 2014 and Vanessa Meachin QCVanessa Meachin QCCall: 1990Silk: 2018. The Practice Director in Birmingham is Ian Charlton. Reach them on the Birmingham number - 0121 289 4333.
---
Services offered
3PB barristers cover all areas of chamber's expertise from Birmingham. Our team includes family barristers, employment law specialists, commercial and property barristers as well as expert lawyers specialising in mediation, crime, personal injury and clinical negligence.
---
Community involvement

The 35+ barristers and staff based at 3PB Barristers in Birmingham regularly engage with local charities in order to support our communities.
One of our partners is the Birmingham Children's Trust.
In recent years barristers and staff in Birmingham have joined together at Christmas to grant Christmas Wishes for children in care with Birmingham Children's Trust.
Christmas can be a difficult time of year for a lot of children and young people in the UK's second city, so the Christmas Wishes initiative brings some festive magic to children and young people in the care of the Trust. The 3PB team bought gifts for 18 children and young people at two residential homes in Birmingham.
Birmingham Children's Trust exists to make a positive difference for children, young people and families in Birmingham. You can read all about their services and initiatives on their website.
The Birmingham Roaring Lions!
We are particularly proud to support the Birmingham Roaring Lions which is Birmingham Children's Trust's forum for children and young people with disabilities. It was formed to give children and young people with physical and learning disabilities a voice and a platform to champion their rights. They celebrated the completion of a highly successful year with a New Year's party featuring a diverse range of games and activities, ending with an awards ceremony.
Our newest partner for 2021 is Birmingham Children's Hospital Charity
Birmingham Children's Hospital Charity believe there is always more they can do for sick children and young people and always strive to do more for their patients and families.
It is their mission to raise the vital funds needed to make a real difference to all who use their hospital's services, offering them the best experience possible.
To read more information about their various upcoming projects, please visit the Birmingham Children's Hospital Charity Website.
Alongside the two charities our Birmingham based barristers and staff endeavour to support, some of our specialist teams and individual barristers spend their spare time volunteering and raising funds for other charities. This includes:
Child Brain Injury Trust (CBIT): Over the years, our team of specialist personal injury barristers and clerks have organised various online quizzes and fundraising events to raise money for CBIT. This was established in 1991 to research and provide information regarding the effects of 'traumatic' injury on a child's developing brain.
Visit the CBIT website to find out more.
The Mango Tree Home Haiti, supported by specialist family finance barrister Michael George. Mango Tree Home near Port-au-Prince is a safe family environment for orphans and abandoned children since the devastation of the 2010 earthquake; now a permanent family home for 37 children.
Pause, supported by a family barrister Suzanne Coleclough, works with women who have experienced, or are at risk of, repeat removals of children from their care.
Through an intense programme of support, it aims to break this cycle and give women the opportunity to reflect, tackle destructive patterns of behaviour, and to develop new skills and responses that can help them create a more positive future.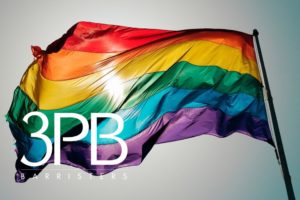 Pride
To mark Pride 2021, 3PB's equality and diversity team hosted a virtual quiz in aid of MindOut LGBTQ+ mental health service. A total of over £800 was raised on the night, all of which will go to MindOut.
3PB Barristers also attended the 2021 Pride Parade in Birmingham, alongside colleagues from Birmingham Law Society and the Birmingham legal community. Led by Elizabeth McGrath QC, the 3PB team showed support for the LGBTQ+ community.
To find out more about our charity involvement or to get involved please contact Liz Ryan by email on liz.ryan@3pb.co.uk.
---
Directions
By train
Birmingham New Street station is a 15 minute walk away from 3PB's Birmingham chambers. Snow Hill station is a 3 minute walk away from 3PB's Birmingham chambers.
By car
There is a B4 car park a short walk away from chambers. For further information or for directions please contact us on 0121 289 4333. The sat nav reference for B4 car park is B4 6GN.
By air
Birmingham International Airport is the nearest airport. Birmingham International Airport is served by Birmingham International train station. Travel between Birmingham International Station and Birmingham New Street Station takes approximately 10 minutes. By taxi it takes approximately 30 minutes.
Visitor Parking
We do have a very limited number of visitors' parking spaces underneath our office. Please book a parking space via your contact or our front desk on 0121 289 4333. If you need a disabled parking space, please let us know.
Disabled visitors
If you have any particular requirements please contact your clerk contact or our front desk.
---
3PB Meetings

Hold your next team meeting, seminar, conference or presentation at our light, spacious and modern offices situated right in the heart of Birmingham. We have a variety of flexible spaces available to hire for your meeting and event requirements all utilising the latest event technology and offering a variety of catering options.
we can always talk to them - excellent
Chambers and Partners