3PB crime barristers appointed to CPS approved advocates panel
15th December 2021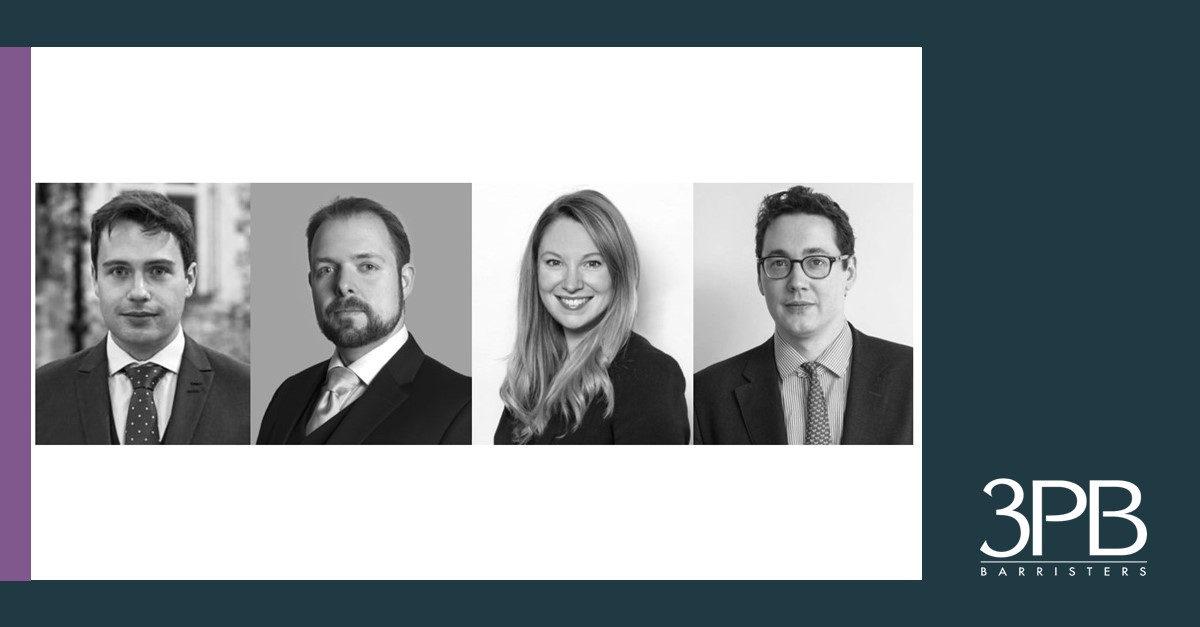 3PB would like to congratulate specialist crime barristers Tom Horder (pictured right), Berenice Mulvanny (pictured second right), David Jenkins (pictured second left) and Thomas Acworth (pictured left) for recently being appointed to the Crown Prosecution Service (CPS) approved advocates panel.
Tom Horder, appointed to Grade 4 of the CPS approved panel of advocates, is frequently instructed in multi-handed murder trials, high value frauds, complex drug importations and cases involving modern slavery, trafficking and allegations of serious and historic sexual abuse.
Berenice Mulvanny, appointed to Grade 4 of the CPS approved panel of advocates, is a specialist criminal law barrister instructed on the most serious offences in and around the Western Circuit. She specialises in murder, rape and other serious sexual offences, fraud and dishonesty offences, firearms and explosives drugs conspiracies, arson and serious violence.
David Jenkins, appointed to Grade 3 of the CPS approved panel of advocates, is regularly instructed in complicated multi-handed conspiracy trials dealing with large amounts of digital and forensic evidence requiring detailed analysis.
Thomas Acworth, appointed to Grade 3 of the CPS approved panel of advocates, covers the spectrum of criminal and quasi-criminal matters: from cases of serious violence to technical road traffic and regulatory offences. He combines meticulous preparation with excellent client care to deliver personable, pragmatic and effective representation.
Adam Feest QC, Head of 3PB's crime team said ''I'm honoured to lead such a strong team of criminal law specialists. The recent appointments for David Jenkins, Berenice Mulvanny, Tom Horder and Thomas Acworth along with other members of the team appointed as Circuit Judges is a true reflection of the skill, excellence and depth of the advocates within 3PB's criminal law team''.
3PB Barristers highly regarded criminal law team enjoy a formidable reputation, with its barristers instructed frequently in complex high profile cases. Building upon a great tradition that has seen criminal law practised at 3 Paper Buildings for over 100 years, the team consists of leading silks and juniors, backed by a highly regarded team of specialist criminal clerks.
With a particular expertise in regulatory criminal offences, the team receives instructions from Government agencies, local authorities, businesses, insurers and private individuals.
With its six offices in London, Birmingham, Bristol, Bournemouth, Oxford and Winchester all equipped with the latest conferencing and video technology, the team is able to provide a comprehensive and professional service throughout the UK.
To find out more about 3PB's expertise in criminal law, please contact Chambers Director, Stuart Pringle on stuart.pringle@3pb.co.uk or call him on 01962 868 884.