3PB Employment law team awarded a record 12 individual rankings by Chambers and Partners 2022
21st October 2021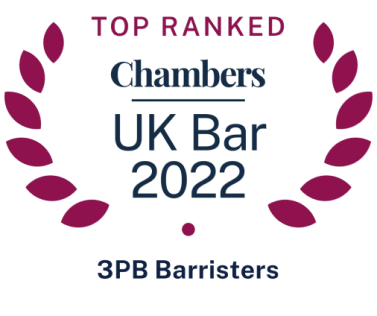 3PB Barristers are delighted to announce yet another record performance for its employment and discrimination law team in the latest edition of Chambers and Partners UK Bar directory published today.
The directory lists 12 individual rankings for our team, up from 9 last year. Eleven of our 23 employment juniors are now acknowledged for their expertise in the directory. The team retains its band 2 ranking in Western, has consolidated its offering in South Eastern with 3 ranked barristers and attracts its first ranking in London.
The team's technical capabilities are praised alongside the service its clerking team provides: "The clerks at 3PB go above and beyond." "I have found the set's clerking to be exceptionally collaborative, and their prices to be competitive." "3PB are friendly, pragmatic and helpful - they usually have an employment barrister available and respond to enquiries very promptly. The clerks are excellent and easy to work with."
Congratulations to Craig Ludlow; Karen Moss; Katherine Anderson; Sarah Clarke; Gareth Graham; Mark Green; Matthew Curtis; Sarah Bowen; Simon Tibbitts; Andrew MacPhail; and Stephen Wyeth.
Click here to view our team's full results.
Read about the team's performance in the Legal 500 earlier this month.