Episode 7 of 3PB's CoP Comm podcast is now available to download
8th September 2023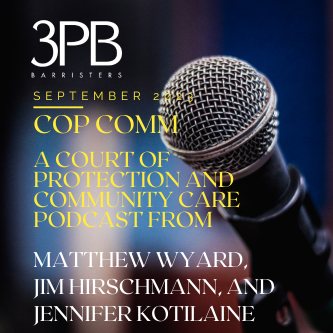 Episode 7 of 3PB Barristers' (3 Paper Buildings) Court of Protection and community care podcast CoP Comm is now available to download.
In this episode, co-presenters Matthew WyardMatthew WyardCall: 2014 and Jim HirschmannJim HirschmannCall: 2018 are joined by fellow 3PB Court of Protection barrister Jennifer KotilaineJennifer KotilaineCall: 2011 to discuss Manchester University Hospital NHS Foundation Trust v JS and Manchester City Council [2023] EWCOP33.
All episodes of Cop Comm are available to stream via major podcast platforms including Apple Podcasts, Spotify, Amazon Music and Buzzsprout.
Matthew Wyard is an experienced public law and Court of Protection barrister, regularly acting for Central and Local government, public authorities, and individuals. Matthew is also appointed to the Attorney General's C Panel of Counsel to the Crown.
Jim Hirschmann has a busy public law, Court of Protection and education law practice, regularly being instructed on cases involving acting for or against local authorities.
Jennifer Kotilaine is a specialised family and Court of Protection barrister, regularly undertaking cases involving children and vulnerable adults.  She acts on behalf of families, children, protected parties, and local authorities in complex care and Court of Protection proceedings up to the High Court.
If you wish to contact or instruct Matthew or Jim, please speak to Russell Porter or telephone 01865 793 736.
To contact or instruct Jennifer, please contact Robert Leonard or telephone 01202 292102.