Duo join construction and engineering team at 3PB
17th June 2022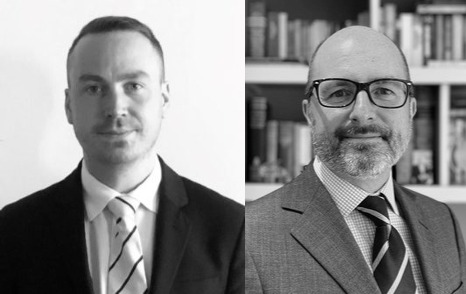 3PB Barristers (3 Paper Buildings) are delighted to announce today that the team has taken on two new members to their 234-strong team, senior barrister Patrick HeneghanPatrick HeneghanCall: 1997 (pictured right) and surveyor-turned-barrister William CharlesworthWilliam CharlesworthCall: 2017. Both are based at the large national chambers' London office in the Inner Temple.
Former Skaddens partner, Patrick Heneghan left the US law firm after almost 15 years in its international litigation and arbitration team. More recently Patrick has been assisting retired High Court judge Sir William Blackburne in his appellate role in relation to complaints concerning the Global Restructuring Group at RBS. Patrick has considerable experience of engineering and construction disputes, particularly in the energy field. This includes acting for a major British engineering company after costs and delays incurred by the contractor in the construction of the Tsing Ma Bridge in Hong Kong, one of the world's longest suspension bridges; and an ICC arbitration over disputes arising from a contract to supply turbine, generator and associated equipment for the construction of a single-cycle dual-fuel power station in Kuwait. He has represented many clients in arbitration proceedings in numerous jurisdictions, from London to Hong Kong, Geneva to Stockholm and Paris to Johannesburg, and under all the major institutional rules.
Commenting on his new role, Patrick said: "There is a fairly well-trodden path of international arbitrators and construction litigators moving from leading firms to chambers at a certain stage of their careers, a key advantage being the ability to overcome the difficulty of conflicts created by the sheer size of some law firms, which can restrict engagements and, in particular, arbitrator appointments."
William Charlesworth, who completed a third six pupillage with 3PB, qualified as a chartered surveyor in 2015 and brings considerable industry experience and added qualifications to his role as a barrister. Prior to the commencement of his career at the Bar, he worked as a managing consultant in the construction disputes and advisory sector as an expert witness (quantum)and advised on some of the largest UK and international construction disputes ongoing. As a former Senior Fund/Development Monitor, he also has had significant experience advising clearing banks and other international lenders on risk associated with development finance; a role that saw him undertaking the technical review of legal documents including the construction contracts, professional appointment documents and collateral warranties, as well as ensuring the requisite ongoing compliance by the borrower throughout the duration of the works.
Commenting on his joining the set, William said:  I am very pleased to be joining the team here. It is an ambitious and forward-looking chambers which is self-evidently happy to look beyond the traditional barrister route for its recruitment. I'm excited as 3PB has real plans to further develop its advocacy, adjudication and arbitration specialisms focused on construction law."
To instruct Patrick Heneghan or William Charlesworth on any matter, please contact their clerks, Steve Evers, stephen.evers@3pb.co.uk or Joe Townsend, joe.townsend@3pb.co.uk​​​​​​​ or by calling them on 020 7583 8055.