Cop Comm Episode 6 now available
14th July 2023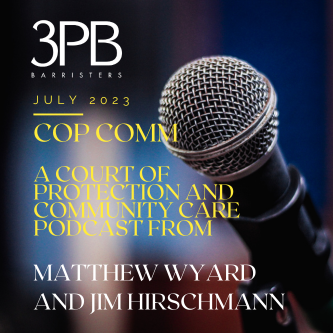 Episode 6 of Cop Comm, 3PB Barristers' (3 Paper Buildings) Court of Protection and community care podcast is now available to download.
In this episode, co-presenters Matthew WyardMatthew WyardCall: 2014 and Jim HirschmannJim HirschmannCall: 2018 discuss two cases from June 2023, Re: Public Guardians Severance Application [2023] EWCOP 24 and appeal case Wiltshire County Council v RB & Ors [2023] EWCOP 26.
All episodes of Cop Comm are available to stream via major podcast platforms including Apple Podcasts, Spotify, Amazon Music and Buzzsprout.
Matthew Wyard is an experienced public law and court of protection barrister, regularly acting for Central and Local government, public authorities, and individuals. Matthew is also appointed to the Attorney General's C Panel of Counsel to the Crown.
Jim Hirschmann has a busy public law, court of protection and education law practice, regularly being instructed on cases involving acting for or against local authorities.
If you wish to contact or instruct Matthew or Jim, please speak to Russell Porter or telephone 01865 793 736.