June family law brunch recording - out now!
25th June 2021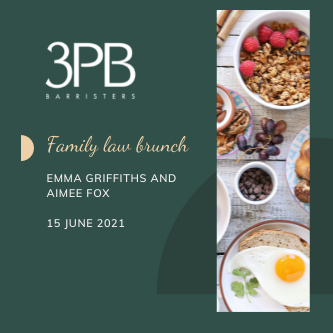 Specialist family law barristers Emma Griffiths and Aimee Fox hosted our family law brunch via Zoom on Tuesday 15 June.
Emma Griffiths presented 'Re HN: Scott's demise?' and Aimee Fox examined 'Covert recordings in family proceedings'.
Download our barristers' presentation slides and useful links here.
Contact Practice Directors Robert Leonard and Ian Charlton for more information.
Related Articles
Welcome to the 3PB family law newsletter Our fifth family law group newsletter brings you a wealth of 3PB family news including Liz McGrath QC's experience of the last 18 months, heavily marked by Covid 19. We bring you a round up of our March, April and June family law brunch talks with links to our presentations, notes and videos. Our hosts over the time period were Emma Griffiths and Aimee Fox; Liz Hudson and Theresa...

Continue reading