The new school exclusions, suspensions and pupil movement guidance webinar
Wednesday 20th Jul 2022
5:00 pm - 6:15 pm
Via Zoom
CPD: 1.5
Price: FREE
Register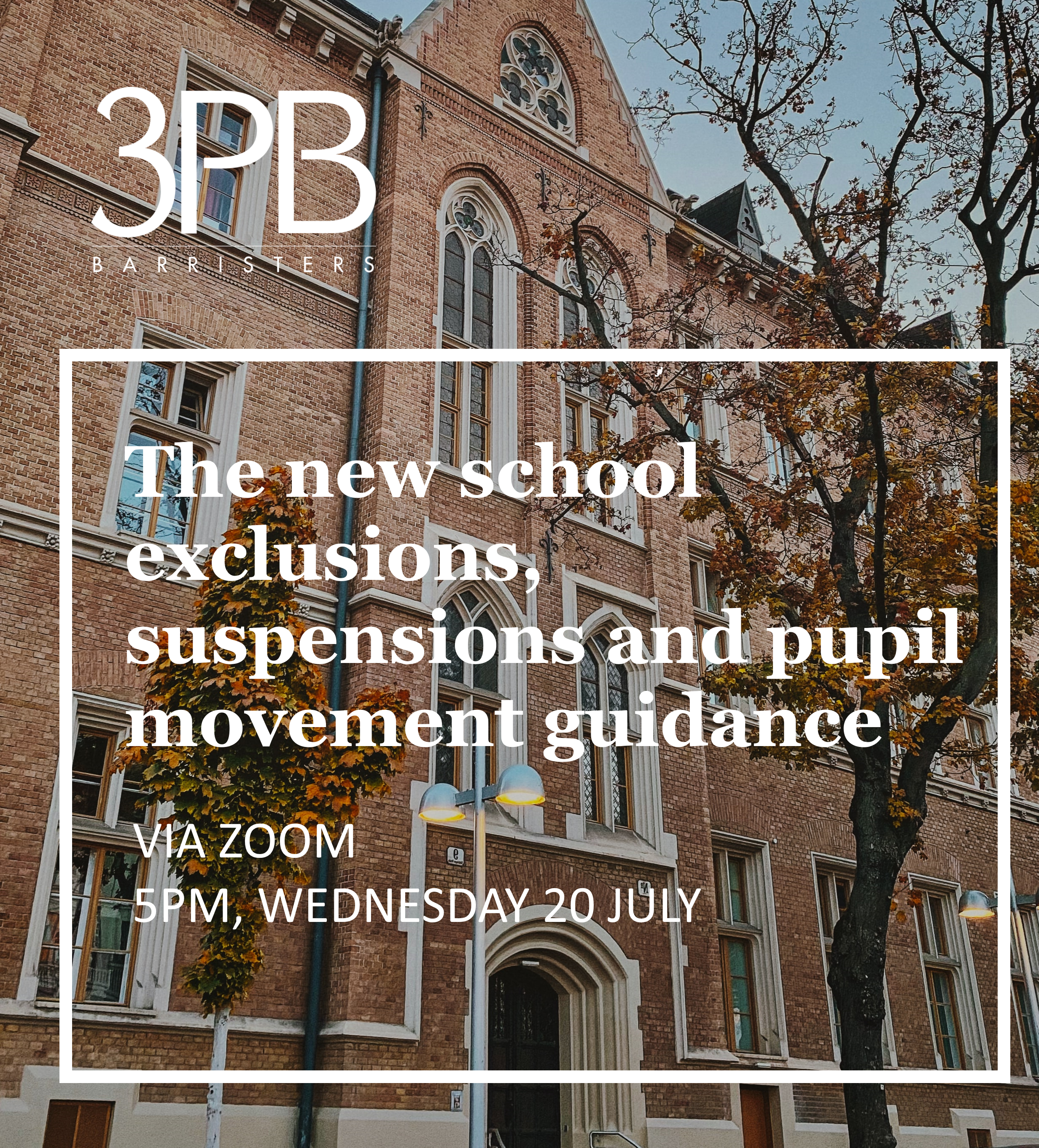 Join 3PB Education Law barristers in conversation about the new school exclusions, suspensions and pupil movement guidance, published by the Department for Education on 13 July 2022.
Alice de Coverley and Charlotte Hadfield, authors of "A practical guide to the law in relation to school exclusions", the leading textbook on the subject, will lead you through all the upcoming changes to the statutory guidance, and what to expect from 1 September 2022, when this guidance comes into force.
Click here to view the guidance.
Time will be set aside after 6pm for questions and answers. Feel free to submit any questions in advance when registering on Zoom.
Our speakers
Charlotte Hadfield
Charlotte heads 3PB's education team. She is passionate about education and enjoys a wide and varied practice covering the full spectrum of education law and related regulatory law.  She is regularly instructed on behalf of parents, young people, students, schools, academies, HE providers, local authorities, universities and Early Years and Child Care providers/practitioners.
"She really fights her client's corner and delivers very comprehensive legal arguments."
"Always very good, very reliable and really quick to understand the issues."
"She has a very broad knowledge base - there isn't an area of education law that she isn't an expert on." - Chambers and Partners Education
Alice de Coverley
Alice de Coverley is a specialist education, equality, and public law barrister. She regularly acts on behalf of children and young people, vulnerable adults, parents and carers, schools, local authorities, charities and NGOs, government departments, students, and universities. Alice has significant experience working with children and young people with disabilities, severe mental health conditions, special educational needs and those who have experienced sexual violence. She is passionate about education law and children's rights.
"Very knowledgeable and passionate. She really helps her clients to understand what the issues are and identifies the legal risks and next steps." 
"A phenomenal, astute barrister who has a friendly demeanour and an in-depth knowledge of this specialist area of law." 
"She is very approachable, very supportive to parents and very calm and collected in a stressful environment." - Chambers and Partners Education
Venue Information
Via Zoom