The UK maritime sector post Covid 19 - 2 July
Thursday 2nd Jul 2020
11:00 am - 12:00 pm
Via Zoom
CPD: 1
Price: FREE
Register
The UK maritime sector post Covid 19: ports, cruise ships and seafarers' health and safety'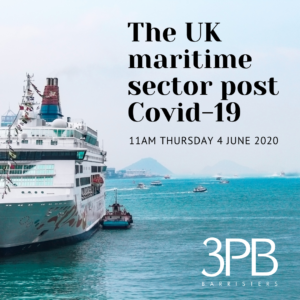 3PB barristers David Richards, head of the public regulatory team at 3PB, and Dr Tagbo Ilozue present a review of Covid-19 and the regulation of cruise ships and UK ports.
Once the world is back at work the legacy of the pandemic for all who use and work on ships will be profound.
Regulators of marine activity will be as concerned as regulators on land to ensure the health and safety of all on board, including crew, passengers, pilots and others, is protected.
Failure to do so, or a more relaxed approach, will serve neither those on board nor the industry as a whole. This talk will explore what may be accepted as 'safe' for those at sea or working in ports in light of Covid-19.
Venue Information
Via Zoom