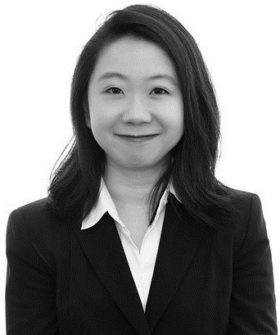 Dr Zhen Ye
Year of Call: 2016
Email Address: zhen.ye@3pb.co.uk
Telephone: 020 7583 8055

Overview
Dr Zhen Ye is a specialist commercial/insolvency, property and construction litigation barrister.
Prior to joining 3PB, Zhen was a dispute resolution/litigation paralegal at two London law firms King & Wood Mallesons and Mishcon de Reya, drafting various documents including witness statements, preparing complex exhibits and proofing lengthy translations.
Zhen is fluent in English and Mandarin Chinese and proficient in Cantonese Chinese and specialised in supporting China and South East Asia clients including attending a high-value international arbitration to provide supports and identify any "lost in translation" moments in real time.
Advocacy, written and negotiation skills
Zhen is a skilled and natural advocate, and appears in court on a frequent basis. She likes to engage with opposing counsel to get a good outcome for her client; and has good understanding of daily procedure and practice in UK courts and is comfortable appearing before a variety of judges.
She also accepts instruction to produce written advice in all areas of her expertise.
Commerciality/Client care
Having worked at law firms, Zhen has an excellent understanding of the business needs and commercial reality of instructing solicitors and lay clients. She works hard to prepare cases and has a reputation for using strong judgement in making decisions about case strategy at court.
Chinese language skills and casework
Zhen played an integral role in a joint venture Chinese business in their acquisition of a well-known English football team.
Zhen used her Chinese language skills to ensure seamless liaison between clients and solicitors and translated a variety of documents, including land registration applications, leases and licences. This again involved working to critical, urgent deadlines, commercial outcomes and solicitors' in-house style and worked long hours to produce concise, detailed research.
Public speaking and training
A well-known public speaker and trainer, Zhen was a guest speaker on Cambridge University's MPhil in Development Studies from 2009 until 2014.
Outside her busy work diary, Zhen's interests are reading, especially Chinese literature, and hot yoga.
Publications
Controlling insider dealing through criminal enforcement in China, Journal of Financial Crime, 26 June 2020
Regulation of Insider Trading in China, Research Handbook on International Financial Crime, January 2020
Expertise
Add this expertise to your shortlist

Zhen has had exposure to high-level, multi-million pound commercial disputes, both before and after joined 3PB.  She is capable of advising on the application of commercial and contract law to complex, multi-party arrangements.

Zhen has a particular interest in cross-border commercial disputes and international arbitration, having studied competition law and financial regulations in a comparative context, and being involved in several international arbitration cases.

Her past experience include:

researching case law on implied indemnity for a pension dispute, discussing the possible legal arguments and producing first draft of advice; and
acting in extradition proceeding against a well-known Russian oligarch including drafting documents, reviewing witness statements for experts and preparing complex exhibits and proofing lengthy translations. Met all the court and client deadlines and worked in a team of 25 partners and associates.

Zhen also now frequently provides written advice, court advocacy, assisting clients in mediations on smaller-scale disputes such as contracts for building services and sale of goods claims.

Company law

In addition to her experience in corporate insolvency (see separate tab), Zhen has substantial experience in general company law matters and frequently appears and advises on matters such as applications to rectify the register of charges under the Companies Act 2006.

Insolvency and bankruptcy

Add this expertise to your shortlist

Zhen is regularly instructed to advise and represent clients on the following insolvency and bankruptcy matters:

Partnership insolvencies
Creditors' Voluntary Liquidation
Creditors' Voluntary Arrangements

Zhen frequently appears at the winding-up court at the Rolls building.

Zhen also has experience in representing individuals in bankruptcy proceedings and frequently appears in London and in county courts for such cases.

Add this expertise to your shortlist

Dr Zhen Ye frequently provides advice and representation on matters such as:

Residential and Commercial possession claims
Forfeiture and Relief from Forfeiture
Rent arrears and service charge
Boundary Disputes Nuisance
Trespass Easements
Leasehold dispute

Zhen has recently appeared in a recorded case in the First-tier Tribunal (Property Chamber).

Construction and engineering

Add this expertise to your shortlist

Zhen is the newest member of 3PB's prolific and much-respected Construction and Engineering Group, and frequently acts in a wide variety of residential and commercial construction matters.

Recent cases include:

Represented builders—unpaid invoice for building works and counterclaim for defective works
Represented homeowner—return of deposit for unbuilt conservatory
Represented homeowners—unpaid invoice for building works and counterclaim for defective works
Advised on prospects in claim against negligent conveyancer
Advised and drafted proceedings in dispute with builder over pavement works
Advised and drafted proceedings in dispute with builder over kitchen and cottage conversions
Drafted proceedings against employer for unpaid invoices under JCT contracts
Advised on prospects against installer of flooring for poor workmanship
Advising and drafting proceedings in multi-track claim for non-payment of invoices in building works
Advised and drafted proceedings in dispute between contractor and sub-contractor
Adjudication – advised on recovery where unknown to the parties. Matter governed by Housing Grants, Construction and Regeneration Act 1996
Academic qualifications
BPTC, Very Competent, BPP Law School, London
GDL, Commendation, BPP Law School, London
PhD, Financial and Securities Regulation, Jesus College, Cambridge
MPhil Development Studies, High Pass, Darwin College, Cambridge
LLM Competition Law, Merit, University College London
LLB Law, First Class , Jilin University, China
Professional bodies
Chancery Bar Association
Property Bar Association
Society of Construction Law
Inner Temple