Employment law case update out now
26th January 2021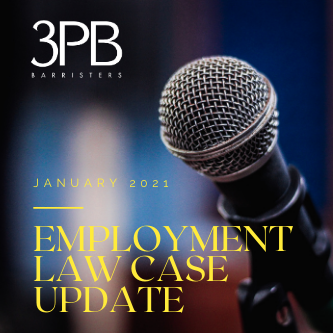 This month's round up of all the latest employment case law is now available in both podcast and video form!
Karen MossKaren MossCall: 2002 and Grace NichollsGrace NichollsCall: 2015 take you through their analyses of two of the most significant cases decided in December 2020. Karen talks about Quilter Private Client Advisers v Falconer and Continuum (Financial Services) LLP; whilst Grace takes us through Steer v Stormsure Ltd in the Employment Appeal Tribunal.
Quilter and Falconer is a case regarding the enforceability of restrictive covenants with particular relevance around public interest and some interesting findings about affirmation in a constructive wrongful dismissal claim.
Steer and Stormsure looks likely to add another tool in the armoury for claimants bringing claims for discriminatory dismissal.
Watch the podcast or the video to find out more.