Judicial Review update: practice and procedure - via Zoom - 1 June
Tuesday 1st Jun 2021
3:00 pm - 4:00 pm
via Zoom
CPD: 1
Price: FREE
Register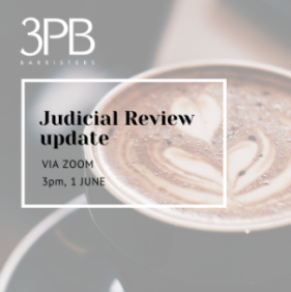 On 31st May 2021, the Part 54 Practice Directions will be revised, marking some substantial changes to judicial review claims moving forward. Join specialist judicial review practitioners Mathew Gullick QC, Caroline Stone, Matthew Wyard and Alice de Coverley from 3PB's Public Law team at 3pm on 1st June 2021 for a one hour update on the forthcoming changes.
Topics for discussion will include: 
The new rules on where to issue your claim
The new requirements for pleadings and bundles
Urgent applications and applications for interim relief
There will also be a brief update on the Government's proposed changes to judicial review following the Faulks Review.
Time will be set aside for questions and answers during the session but feel free to submit any questions in advance when registering on Zoom.
Speakers
Mathew Gullick QC is an experienced High Court and appellate advocate, appearing in the Administrative Court in a wide range of public law matters and in more than 30 substantive appeals in the Court of Appeal and the UK Supreme Court. Prior to taking Silk in March 2021, he was a member of the Attorney-General's Panels of Junior Counsel to the Crown for 13 years, latterly on the London A Panel, and was regularly instructed to deal with procedural issues across the spectrum of civil litigation. During 2020, he was instructed by Ofsted on several of the Investigations conducted by the Independent Inquiry into Child Sexual Abuse (IICSA), in which Ofsted was a Core Participant.
Caroline Stone's practice focuses on public law with a particular expertise in national security litigation and a growing practice in education law. She is a member of the Attorney General's Panel of Junior Counsel to the Crown (B Panel) and is a founding and Assistant Editor of and contributor to the practitioner's textbook National Security: Law, Practice and Procedure (Oxford University Press, 2021). Prior to the Bar, Caroline worked at the pioneering legal charity, the Public Law Project, as a researcher on the The Dynamics of Judicial Review Litigation, a Nuffield Foundation-sponsored study into the mechanics of judicial review, in particular the permission stage.
Alice has a busy public law practice, with specific expertise in education, social care, and safeguarding matters. Alice is the co-author of A Practical Guide to School Exclusions (Law Brief Publishing, 2020) and contributing author to Patterson and Karim on Judicial Review, 3rd Ed (Jordan Publishing, 2019). Alice is also on the Legal Reference Panel for the Centre for Women's Justice, regularly providing pro bono legal advice to front-line women's sector workers and direct to survivors of sexual violence, most often in the education context.
Matthew's practice focuses on public law and regulation with a particular expertise in education and community care matters, and a developing practice in matters concerning data use and information rights. He is a member of the Attorney General's Panel of Junior Counsel to the Crown (C Panel) and the Welsh Government's Junior Barrister Public Law Scheme, as well as a Chair in the Valuation Tribunal and a non executive director of a higher education institution.
We would be delighted to see you on Zoom. Please register above so that we know we have enough Zoom spaces available.
Venue Information
via Zoom