Commercial law webinar - via Zoom - 28 September 11am
Tuesday 28th Sep 2021
11:00 am - 12:00 pm
Via Zoom.
CPD: 1
Price: FREE
Register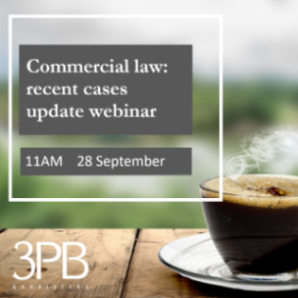 3PB Barristers are hosting a free Commercial Law Webinar via Zoom on Tuesday 28 September 2021 from 11am to 12pm, presented by Seb Oram and Charles Irvine.
Seb Oram on "Reassessing 'scope of duty' in Commercial disputes". By restricting a defendant's liability to those losses within the scope of his duty, the law places limits on a defendant's financial responsibility for wrongdoing. Following the Supreme Court's restatement of the principle in Manchester Building Society v. Grant Thornton [2021] UKSC 20, this talk examines, first, how the scope of duty principle operates; and, secondly, what application it is likely to have in commercial claims, in professional negligence and beyond.
Charles Irvine on "Recent developments in the law of Limitation". Charles' presentation will include:
- Sciortino v Beaumont [2021] EWCA Civ 786
- Elliott v. Hattens Solicitors [2021] EWCA Civ 720
- Butters v. Hayes [2021] EWCA Civ 252
- FII Litigation [2020] UKSC 47
- Dixon Coles & Gill v. Bishop of Leeds [2021] EWCA Civ 1097
- Holt v. Holley & Steer Solicitors [2021] EWCA Civ 851)
There will be the opportunity to submit questions in advance and during the webinar.
We would be delighted to see you on Zoom. Please register above so that we know we have enough Zoom spaces available.
Venue Information
Via Zoom.