Five 3PB education barristers ranked in Chambers & Partners 2021 edition
26th October 2020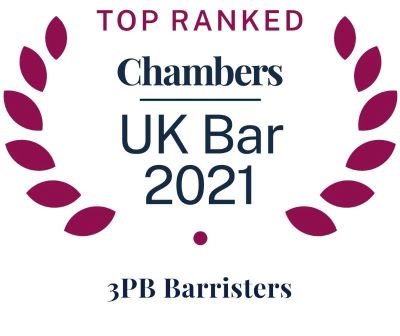 Chambers & Partners 2021 UK Bar directory lists a record five of our education barristers as leading Juniors or Up and Coming barristers in its latest edition.
The directory acknowledges '3PB Barristers is a well-regarded set with a growing presence in the education sector. Members are experienced in the handling of a broad range of matters, including school admissions and exclusions, special educational needs and discrimination claims. The team also offers expertise in disciplinary matters arising in the higher education sector. The set's varied client base encompasses several education institutions, such as schools, universities and academies, as well as pupils, governing bodies and NGOs, and its barristers regularly appear before the First-tier Tribunal, Upper-tier Tribunal and the Court of Appeal.'
The team's clerks are praised for their client service: "The clerks are very user-friendly, open, engaging and extremely accommodating. They will always try to find someone for you." "The clerks are all very helpful and will go out of their way to deal with enquiries." "The clerking team really go the extra mile for their clients." Chris Mitchell directs practice management at the set and is ably assisted by Tom Cox and Gemma Faulkner for education work.".
Profiles for our ranked members, including what the directories say about them, can be found here for Charlotte HadfieldCharlotte HadfieldCall: 1999, Lachlan WilsonLachlan WilsonCall: 1996, John FrielJohn FrielCall: 1974, Emma WaldronEmma WaldronCall: 2011 and Alice de CoverleyAlice de CoverleyCall: 2014.
Click here to view Chambers' overall results, with a record 52 rankings this year across a growing number of specialisms.