3PB select Western Circuit's Running Challenge (WCRC) as its Charity of the Year
9th December 2021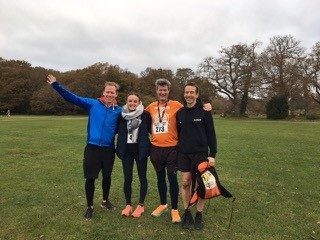 3PB Barristers have picked the Western Circuit Running Challenge (WCRC) as its Charity of the Year for 2022. The WCRC sees the legal industry come together and participate in marathons and shorter running challenges and will see 3PB raise money for three very worthwhile charities: The British Heart Foundation, The Panathlon Challenge and Little Hearts Matter.
From September of this year to October of next year, WCRC are aiming to complete a running event in the 13 cities and towns on the Western Circuit which have a main court centre. Runners have already completed 10km races in Plymouth, Bournemouth and Bristol, with WCRC in Southampton in a few weeks' time. Next year will see WCRC going from Truro to Gloucester to Portsmouth, and all points in between. They will also be looking at completing the challenge in other parts of the UK later in 2022.
The British Heart Foundation fund over £100million of research each year into all heart and circulatory diseases and the things that cause them. Heart diseases. Stroke. Vascular dementia. Diabetes. They're all connected, and they're all under their microscope. To find out more, please visit the British Heart Foundation website.
Panathlon is a national charity which gives thousands of young people with disabilities and special educational needs every year the opportunity to take part in competitive sport. They adapted to Covid-19 in 2020/21 by offering an array of in-school activities and competitions through a Virtual Programme which helped almost 46,000 SEND students. To find out more, please visit the Panathlon website.
Little Hearts Matter provide free information and support to families affected by single ventricle heart disease (where a child is born with only half a working heart). Their vision is to see families able to cope with the diagnosis, treatment and lifestyle challenges that single ventricle heart disease creates and to help them feel less stressed and alone as they live their half-a-heart life.  They also provide specially arranged and adjusted sporting and outdoor activities which affected children would otherwise not be able to access.  To find out more, please visit the Little Hearts Matter website.
WCRC and the three charities who will benefit were selected and voted on at the national chambers AGM and money will be raised by the 270 barristers and staff throughout 2022. This national Charity of the Year, awarded annually by 3PB, is a well-established tradition and WCRC replaces the 2021 charity, Alabaré's Homes for Veterans. 3PB also support local charities and communities near its six offices in London, Winchester, Bournemouth, Bristol, Oxford and Birmingham.
If you wish to make a donation to the Western Circuit's Running Challenge (WCRC), please visit the WCRC JustGiving page.
For more information about WCRC or to find out how you can get involved, please email Adam Feest QC (pictured here, second right) on adam.feest@3pb.co.uk.