Probate law update - via Zoom - 17 June
Thursday 17th Jun 2021
11:00 am - 12:00 pm
Via Zoom
CPD: 1
Price: FREE
Register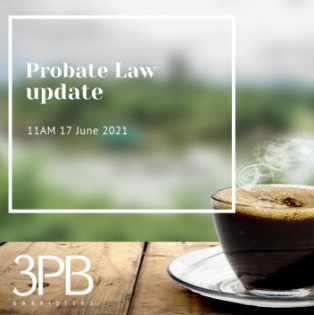 3PB Barristers are hosting a free Probate Law Update via Zoom on Thursday 17 June 2021 from 11am to 12pm, presented by Martin Strutt and Lydia Pemberton.
The event will be chaired by real property, trusts and probate specialist Cheryl Jones.
Martin Strutt
"Knowledge and approval and rectification: an overview of knowledge and approval and discussion as to whether rectification can in some circumstances cure a lack of knowledge and approval."
Martin deals with all aspects of contentious probate including challenging the validity of wills on the grounds of formality, incapacity, lack of knowledge and approval and undue influence. He also undertakes Inheritance Act claims.
Lydia Pemberton
"Put up or shut up. How to progress estate administration: an overview into the options available to PRs who need to progress the estate administration when there are adverse or competing claims from outside the estate".
Lydia has considerable experience of advising and acting in contentious probate matters.  She represents clients on a range of disputes, including those which involve international aspects.  Lydia has also undertaken a large number of Inheritance Act cases and has a firm understanding and extensive experience of TOLATA claims.
We would be delighted to see you on Zoom. Please register above so that we know we have enough Zoom spaces available.
Venue Information
Via Zoom