QOCS, Precedent T and cost management rules change: a review
Wednesday 25th Nov 2020
2:00 pm - 3:00 pm
Via Zoom
CPD: 1
Price: FREE
Register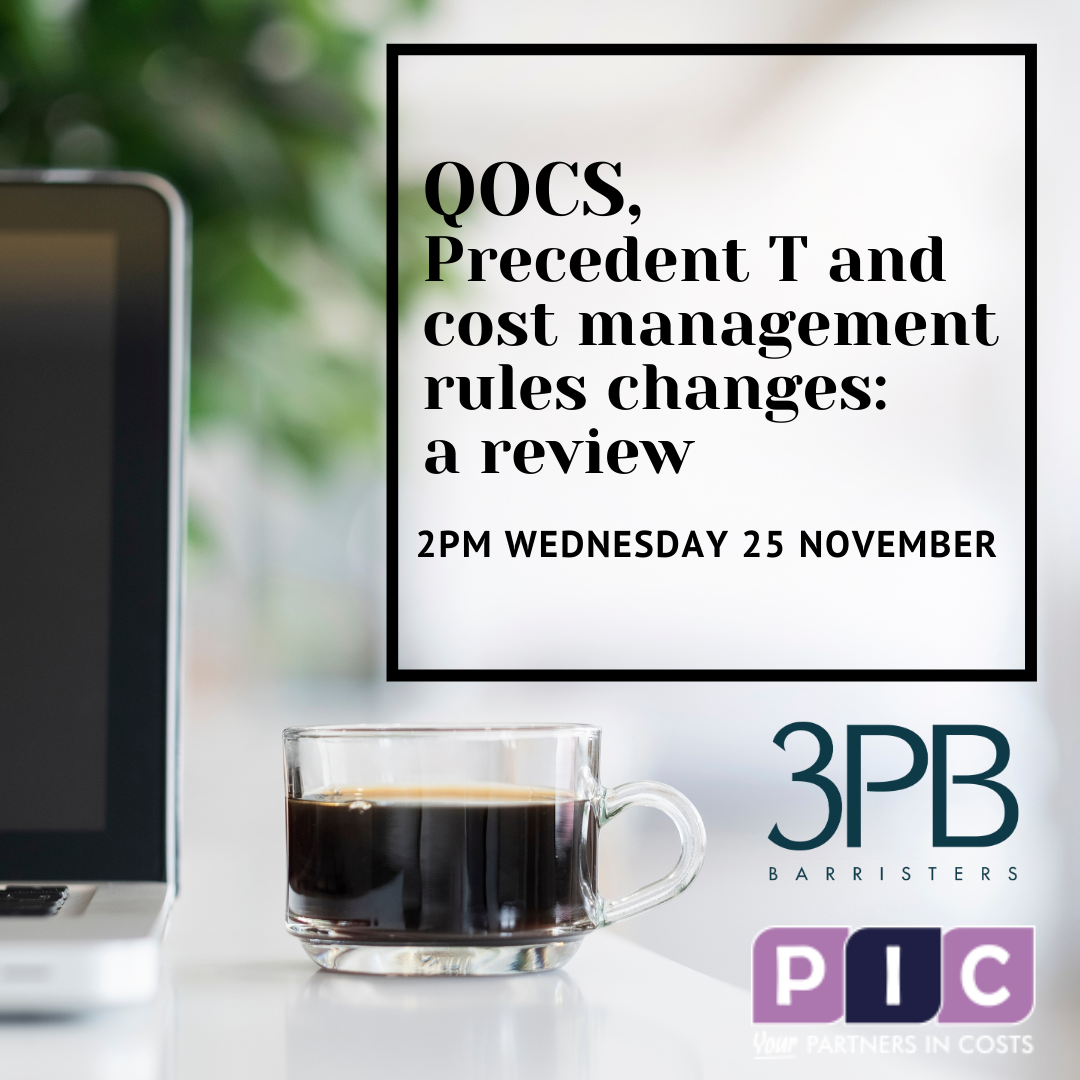 3PB Barristers and Partners in Costs are hosting a free webinar on QOCS, Precedent T and cost management rules changes via Zoom on Wednesday 25 November at 2pm.
3PB Barrister Mark Sullivan will review "Qualified one way costs shifting (QOCS) - Opportunities & Pitfalls. A Review of Recent Case-Law". Mark will look at the scope of QOCS and the limitations on costs protection set out in CPR Parts 44.14 and 44.15, with particular reference to recent High Court and Court of Appeal decisions, including Cartwright v Venduct Engineering, Commissioner of Metropolitan Police v Brown and Ho v Adelekun.
Mark Sullivan is an experienced and highly regarded member of 3PB's Personal Injury and Clinical Negligence teams. Over the years he has developed a particular speciality in costs-related matters.
PIC Legal Costs and National Training Manager Dominic Woodhouse will examine "Precedent T and the October 2020 changes to the Costs Management rules". Dominic will review the changes made to Costs Management by the Civil Procedure (Amendment No. 3) Rules 2020 and the 122nd Practice Direction update, what you need to do when seeking to vary a budget, and the essential points to consider when seeking to establish a significant development.
Dominic has specialised in costs law since 2002, with a particular focus on high value complex clinical negligence actions, industrial disease and all forms of employer's liability. Dominic has invaluable knowledge of Courts and Costs Judges in the North West as well as regularly appearing at the High Court in London.
Venue Information
Via Zoom