Episode 5 of CoP Comm now available
16th May 2023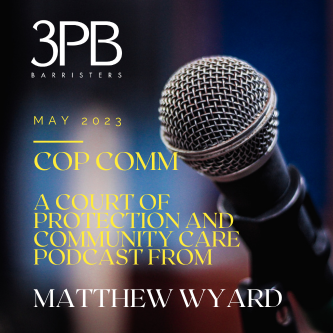 3PB Barristers' (3 Paper Buildings) is pleased to announce that the fifth episode of its CoP Comm podcast is now live and available for download across major podcast platforms.
In this episode, host Matthew WyardMatthew WyardCall: 2014 is joined by special guest James Pantling-Skeet, Senior Associate at Boyes Turner, to discuss the recent decision of R(HL) v Secretary of State for Health and Social Care, as well as sharing views on how the process to challenge community care decisions ought to change.
The Cop Comm podcast series covers all things court of protection and community care. Previous episodes of CoP Comm are available for listening on Apple Podcasts, Spotify, Amazon Music and Buzzsprout.
Matthew Wyard is a specialist public law barrister at 3PB with a particular focus on cases involving health, education, and community care disputes. Matthew is appointed to the Attorney General's C Panel of Counsel to the Crown and regularly acts on behalf of Central and Local Government, public authorities, and individuals.
If you wish to contact or instruct Matthew, please contact Practice Director Chris Mitchell via email at [email protected] or telephone 020 7583 8055.