Alice de Coverley and Gabriel Adedeji act for Ofsted in the Independent Inquiry into Child Sexual Abuse
1st March 2022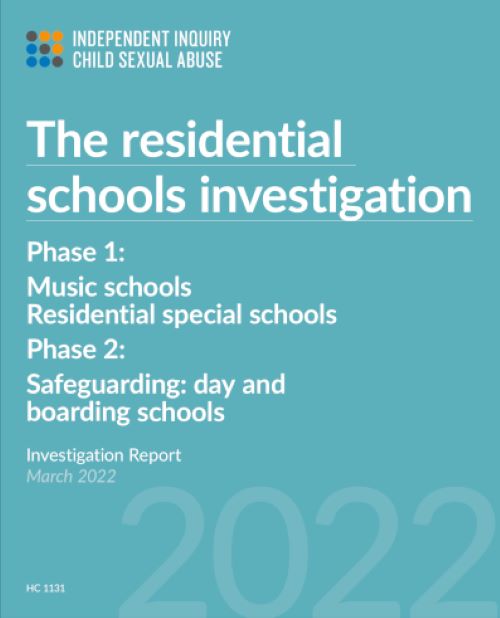 3PB's education and public law expert Alice de CoverleyAlice de CoverleyCall: 2014 acted as Junior Counsel for Ofsted, led by Sarah Hannett QC, in this major public inquiry. Gabriel Adedeji,Gabriel AdedejiCall: 2012 3PB public law and regulatory law expert, acted as disclosure counsel for Ofsted.
This latest strand of this ground-breaking investigation into the school sector by IICSA lasted for over three years and had several dimensions. Its first phase focused on residential specialist music schools and residential special schools, where, for different reasons, pupils faced heightened risks of sexual abuse and there had been numerous allegations and convictions. The second phase examined a variety of other types of schools in which staff had been convicted of the sexual abuse of pupils, or in which serious safeguarding concerns had arisen.
As described by IICSA, "[t]he instances of the sexual abuse of children presented in this report will shock and horrify. They represent the antithesis of everything that a school should be. For many victims and survivors, the impacts have been profound and lifelong. Some perpetrators have been brought to justice, but many have not. Some of those in positions of authority and responsibility have been held to account for their failures of leadership and governance in varying degrees, but many have not." The Residential Schools Investigation Report, published today, can be accessed here. The Inquiry made a range of far-reaching recommendations for the education sector including:
Safeguarding training: The Government should set nationally accredited standards and levels of safeguarding training in schools. The Government should make the highest level of safeguarding training mandatory for headteachers, designated safeguarding leads in England or designated safeguarding persons in Wales, as well as designated safeguarding governors, or the proprietor or head of the proprietorial body. The Government must set nationally accredited standards and levels of safeguarding training in schools
RSE for children with SEND must be reviewed: The Government must undertake an urgent review in order to improve the provision and effectiveness of relationships, sex and health education (RSHE) for children with special educational needs and disabilities, both for children who are in mainstream settings and for those in special schools
Inspect using quality standards, not minimum standards: There should be a requirement that all residential special schools be inspected against the quality standards used to regulate children's homes in England and care homes in Wales
Independent School Standards: there must be amendments to the Independent School Standards to ensure that all independent schools have an "effective system of governance".
Reporting requirements: Serious incident reporting requirements should be reintroduced for boarding and residential special schools, with professional or regulatory consequences for breach of this duty.
TRA should cover teaching assistants, LSAs and cover supervisors: The Government should amend the Teachers' Disciplinary (England) Regulations 2012 to bring all teaching assistants, learning support staff and cover supervisors within the misconduct jurisdiction of the Teaching Regulation Agency.
Press reports on today's report, as featured, include the Guardian and Schools Week.
To instruct Alice de Coverley or Gabriel Adejedi, please contact their clerk Chris Mitchell on chris.mitchell@3pb.co.uk or by calling him on 020 7583 8055.