3PB Commercial team recruits Jakob Reckhenrich and Mark Wilden
12th January 2022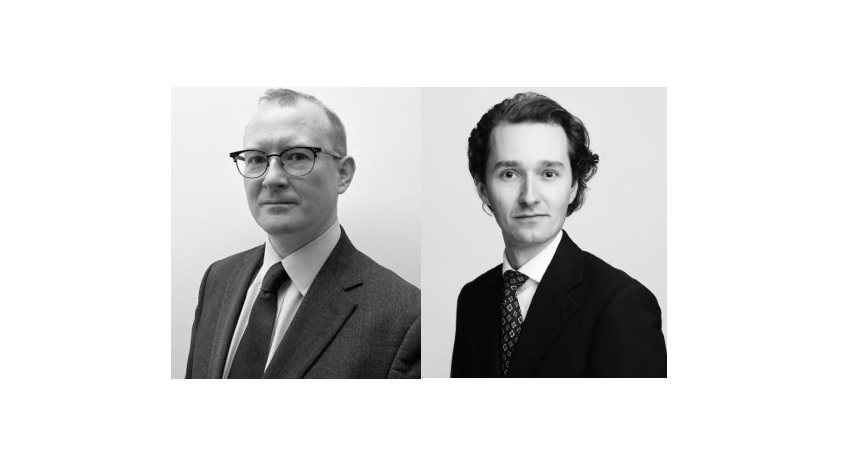 Two new commercial litigation team barristers have joined 3PB. Commercial litigation barrister Jakob Reckhenrich (pictured right) joins the set after moving across from Monckton Chambers where he had done his 12-month pupillage before working as a judicial assistant in the Commercial Court, assisting Mrs Justice Cockerill, Mr Justice Butcher and Mr Justice Jacobs. Becoming a tenant of chambers upon the conclusion of his third six pupillage at 3PB, Jakob joins the 47-strong commercial litigation barristers' team at national chambers 3PB.
Working from 3PB's HQ in London, in the Inner Temple, Jakob specialises in commercial and contractual disputes and is regularly instructed at all stages of proceedings, providing advice, settling pleadings and appearing in court at interlocutory hearings and trials. He has a particular interest and experience in claims relating to points of agency law, misrepresentation, the law of guarantees, restraints of trade, duress, estoppel arguments, deceit and conspiracy and the enforcement of settlement agreements. Fluent in German and experienced in dealing with international matters, Jakob is currently instructed in a dispute between an English and a European company and, at the Commercial Court, frequently assisted in international matters, including Dynasty Co for Oil and Gas Trading Ltd v Kurdistan Regional Government of Iraq [2021] EWHC 952 (Comm), which concerned state immunity and forum non conveniens, and Transfer Wise Inc v Decker [2021] EWHC 1777 (Comm), which concerned an application to set aside an order enforcing an arbitration award made in the US.
Boasting an impressive academic pedigree, Jakob came to the Bar after working as an academic philosopher for a few years, completing his PhD and teaching at Brown University after studies at University College, Oxford and in Berlin. He also spent half a year working in the corporate strategy department of a major German group of companies. His written work has been praised as "succinct" and "superbly analytical"; his legal research has been described as "especially impressive". In his oral advocacy Jakob draws on his many years of teaching philosophy and giving conference papers. His advocacy has been described as "very much at the top end of the range".
Intellectual property barrister Mark Wilden (pictured left) is also joining 3PB as a Third Six Pupil barrister in London after completing his pupillage at 8 New Square Chambers, where he has been working on high profile intellectual property (IP) matters for clients including Apple, BBC, Ferrari, Google, Microsoft, Next, Peloton and Tesco.  He joins 3PB's successful Intellectual Property team, which includes the highly-rated Victoria Jones and Nicole Bollard, and is part of the strong commercial team at 3PB.
Mark also worked for a year with IP law firm Carpmaels & Ransford LLP as a legal assistant on a range of patent and copyright infringement actions. While at Carpmaels Mark assisted in defending a substantial literary copyright infringement claim, drafted submissions for a successful EUIPO appeal clarifying the scope of design right protection for consumable parts of complex products, and assisted with complex pharmaceutical patent litigation.  He is an experienced County Court advocate, having appeared as sole advocate in over 80 hearings with LPC Law.
Mark came to the Bar after a successful career as an audio producer, sound engineer and musician, having studied Physics and Music.  He worked in-house at Oxford University Press for eight years producing global market-leading English Language Teaching materials and qualified as a PRINCE2 Project Management Practitioner in 2007.  He also played drums professionally, performed as a DJ and produced music podcasts through the 2000s.
Mark has a wealth of commercial, technical and creative experience in the music and publishing industries, and takes a practical approach to advice, pleading and litigation strategy.  He has been described as "a diligent and talented lawyer and a pleasure to work with".
To instruct Jakob or Mark, please contact their clerk David Fielder on 020 7583 8055 or by emailing him on david.fielder@3pb.co.uk.