3PB Commercial appoints Seb Oram and Rebecca Farrell as Heads of group
21st March 2022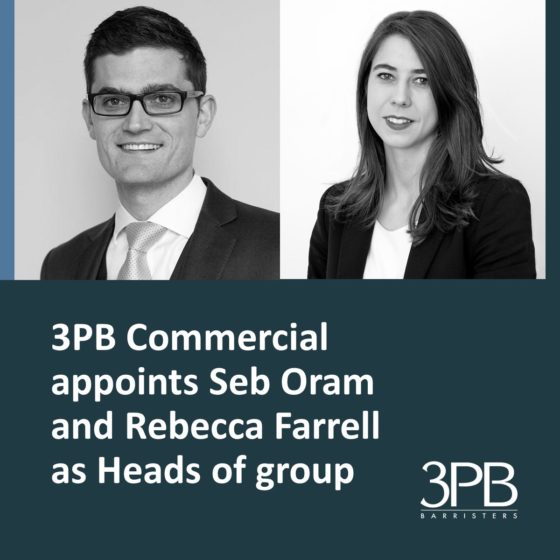 We are pleased to announce the selection of Seb OramSeb OramCall: 2007 and Rebecca FarrellRebecca FarrellCall: 2016, as group Head and Deputy, respectively, following the end of Marc BrittainMarc BrittainCall: 1983's tenure. We wish to thank Marc for his enormous contribution to leading the group over the last 3 years.
Seb joined chambers in 2009 and practises in Professional Liability, for which he is recognised in Who's Who Legal, Chambers UK 2021 and Legal 500 2021. Rebecca became a tenant in April 2018, and has a strong practice in commercial and chancery litigation, particularly Insolvency. As longstanding members of the Commercial Group, both look forward to developing its ongoing success.
3PB Commercial are specialist, Commercial barristers providing expert advice and representation on all the legal aspects of running a business. Our core work focuses on business-to-business disputes, Insolvency, Intellectual Property and Professional Risk. We also have leading individuals in Tax and International Law. With over 45 barristers and 4 Queen's Counsel, the group offers a breadth of experience and expertise in advisory and litigation matters, and all aspects of dispute avoidance.
David Fielder continues as Practice Director, with day-to-day management and development of the team, and leads a team of specialist clerks across our nationwide centres. If you wish to know more about 3PB's Commercial team and their specialisations, email him or call him on 020 7583 8055.