Business Interruption Insurance
Tuesday 13th Oct 2020
11:00 am - 12:00 pm
Via Zoom.
CPD: 1
Price: FREE
Register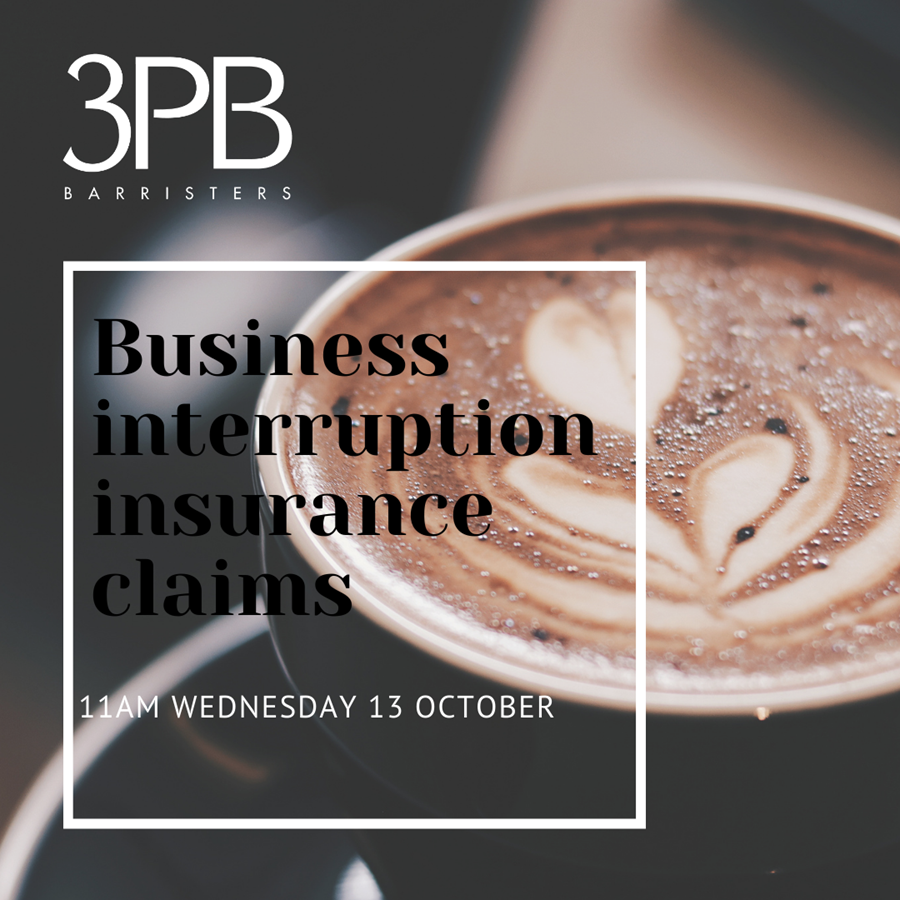 3PB barristers David Berkley QC, David Parratt QC (Scot) and Neil Fawcett are hosting a webinar on Tuesday 13 October at 11am to advise businesses on claims for lost profits following a landmark decision in the FCA's Business Interruption Insurance case.
The test case of Financial Conduct Authority v Arch Insurance (UK) Ltd. and Ors [2020] EWHC 2448 (Comm) which was handed down last week in a 160-page judgement, provides some interesting points for businesses - and their lawyers - looking to claim against business interruption insurance.
During this webinar the 3PB team will outline some of the interesting features of the decision and how this will affect insurance claims. The judgment will provide significant scope for argument but it is, overall, a landmark victory for claimants, most of whom are small to medium-sized businesses.
Neil and colleagues at 3PB are currently advising over 500 UK businesses of all sizes in relation to how the judgment will affect their claims and it is important to note that despite the judgment in this FCA case, much of the argument in each individual case will still relate to the specific wordings of each policy schedule, policy wording, any notice of amendment and the facts of each individual case upon which 3PB would recommend policyholders take specific expert advice.
This webinar will cover the key things to be aware of. Neil states that "nearly all of the claims have been met with letters of rejection from insurance companies, sometimes putting forward ludicrous arguments as reasons to decline paying out under policies obtained often with very substantial premiums. Many insurers, for example, have claimed that the policies were not intended to cover outbreaks of "epidemic diseases" despite no such exclusion-terms appearing in the policy and despite there being clauses ostensibly allowing claims based on the outbreak of disease."
The briefing makes clear that the court's decision may still leave arguments between the parties on matters such as permission to appeal, if the insurers seek a decision on any particular points by the Supreme Court. There may need to be a further hearing for those purposes. It is still not at all clear whether the insurers intend to appeal or not, but given the overall victory for policyholders, and the sums involved for insurers there may be some appetite for this appeal. The insurers though will need to have a specific legal basis or bases for any such appeal.
Read Neil Fawcett's article here.
Venue Information
Via Zoom.