Join 3PB and the Wilberforce Institute for the launch of The Justice Hub, Birmingham
9th June 2022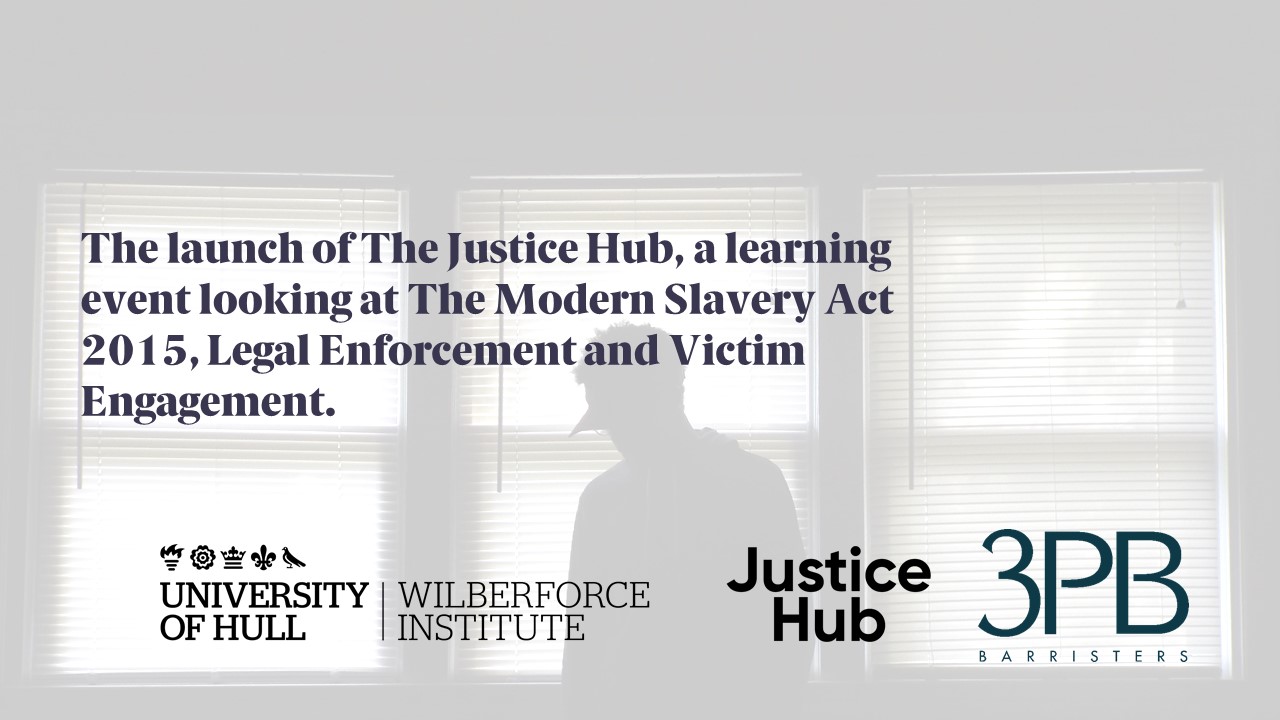 The Global Slavery Index estimates there are 40.3 million people trapped in some form of slavery around the globe today. In the UK, 12,727 people were officially identified as potential victims of modern slavery in 2021. Slavery and trafficking are crimes punishable by severe penalties, yet the problem remains and is growing.
The ACTion to Combat Modern Slavery Justice Hub is a Wilberforce Institute and University of Hull Alumni funded project that seeks to combat modern slavery by using research and knowledge exchange to engage and empower people to create a culture of change for good.
Its mission is to use knowledge exchange, education, and research to raise awareness of, and compliance with, the Modern Slavery Act 2015, ensuring it is better understood and enforced. It works to inform and educate people to apply the law so that it is used to better support those it was designed to protect.
The Wilberforce Institute in conjunction with 3PB Barristers invite you to the launch of The Justice Hub in Birmingham, a learning event looking at The Modern Slavery Act 2015, Legal Enforcement and Victim Engagement in the UK. This half-day seminar will be held at 3PB's Birmingham office on Thursday 30th June 1.30pm – 6pm.
Keynote Speaker Simon Green, Professor of Criminology and Victimology at the University of Hull will discuss victimological theories that link to practice, how we identify victims, victim self-identity, and methods for achieving the best outcomes for victims. Andrew Smith and Dr Alicia Kidd from the Wilberforce Institute are joined by DC Colin Ward from Operation Challenger's modern slavery unit at Greater Manchester Police, to look at 'What is Modern Slavery and How Should We Respond'.
3PB's Liz McGrath QCElizabeth McGrath QCCall: 1987Silk: 2014 and Professor Trevor Burnard, director of the Wilberforce Institute and Wilberforce Professor will introduce the event followed by an introduction to the Justice Hub by manager Andrew Smith. Also joining this exciting event is Louise Gore, Equiano project manager at Jericho, a Birmingham-based charity supporting those on a journey towards fulfilment in life and work. Louise will be providing her expertise as a panel member in a session with all the speakers to close the event.
Tickets are £50 for this half-day seminar - with the full amount going to the Wilberforce Institute, to help fund future research into Modern Slavery and campaigning to put a stop to this abhorrent crime.
Click here to book.