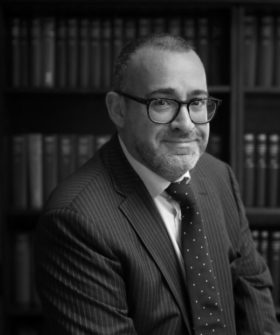 Kevin McCallum QC (Scot)
Year of Call: 2000
Year of Silk: 2020

Overview
Kevin McCallum QC is a criminal barrister with 3PB, called in 2000 after 10 years as a solicitor in Glasgow both as a Procurator Fiscal Depute and a defence solicitor in private practice. Having called to the Bar, he has specialised in criminal defence work, fatal accident inquiries, inquests and social work referral proofs.
In Scotland, he was appointed as an Advocate Depute in February 2004 and as a Senior Advocate Depute in November 2006 and was responsible for the preparation and conduct of a significant number of intensive, large scale and high profile prosecutions, often including multiple accused.
Since returning to defence practice in 2010, he has been instructed in a wide variety of cases including multiple accused high value drugs cases, fraud and money laundering offences, confiscation proceedings, firearms offences and serious sexual offences including allegations of historic sexual abuse either acting as junior counsel alone, and latterly prior to his appointment as senior counsel, as junior counsel acting as lead counsel with a junior. He continues to be instructed in social work referral proofs.
Kevin also still holds an ad hoc Advocate Depute commission, and is regularly instructed by the Crown to conduct significant and more serious prosecutions such as murder cases and cases involving allegations of serious sexual offending an a case by case basis.
More recently, Kevin obtained qualifications in regulatory law/practice (disciplinary proceedings by professional and employment regulatory bodies) from the University of Aberdeen as well a Masters Degree with Distinction in international commercial law with professional arbitration skills from the same university.
He assisted P G McBride QC in the preparation and revision of the 2nd Edition of McCluskey & McBride on Criminal Appeals (Chapter 8:"Bail and Interim Regulation").
Expertise
Add this expertise to your shortlist

Kevin McCallum QC has over 30 years' experience conducting cases in all types of courts including the Sheriff Court, High Court and Criminal Appeal Courts in Scotland and has built an outstanding reputation as a fearless and prolific defence counsel.  Notable cases include:

HMA v Gary Burns - sole counsel in multiple complainer rape prosecution involving unusual parasomnia/non-insane automatism defence in relation to certain charges

HMA v Nicola Clegg & Others - sole counsel; multiple accused drugs, firearms and fire-raising(arson) case involving complex telephony/cellsite evidence

HMA v Callum Andrews & Connor Doherty - lead counsel in murder prosecution attracting significant media attention due to particular brutality of murder

HMA v William Hay - lead counsel in murder prosecution attracting significant media attention given that deceased was a security guard who was ribbed of his own van and then run over with same, causing horrific injuries.
HMA-v-Alexander Donnelly & Others – lead counsel in complex drugs & money laundering prosecution involving a very large number of witnesses, extensive surveillance evidence, complex forensic accountancy evidence and evidence obtained from foreign jurisdictions.

HMA-v-Allan Burns & Others – lead counsel in high profile conspiracy to murder and murder case in relation to an underworld contract killing involving a large number of witnesses, complex telephone cell-site analysis evidence and complicated ballistics evidence.

HMA-v-Scott Percy & Others – lead counsel in complex drugs, conspiracy to murder and murder case concerning the contract killing of a rival drug dealer involving a large number of witnesses and novel issues concerning the introduction of unusual hearsay evidence relating to conversations between two deceased parties.

HMA-v-Rhona McKenzie – lead counsel in high profile murder case involving complex road traffic investigation evidence where a female used a motor car to knock down and drove over her "love rival".

HMA-v-Hoseyin Cobanoglu – lead counsel in case involving multiple rapes and serious sexual assaults of prostitutes. High profile case due to its close connection to the Emma Caldwell murder inquiry.

James Leiser – v- HMA – lead counsel in appeal case involving consideration of requirement of reasonable belief for self-defence in homicide cases.

Isobel Carvill & Gemma Valenti v HMA – lead counsel in inter-related murder conviction appeals involving novel issues as to the tension between the provisions of s. 259 and s. 261 of the Criminal Procedure (Sc) Act 1995 and the common law provisions relating to the evidential status of statements made by one accused in relation to a co-accused.

HMA-v-Maxwell Evans – successful defence of high profile sports celebrity in assault case attracting significant press interest.

HMA v George Anderson – lead counsel in multiple complainer rape and associated sexual offences case.

HMA v Rachel Gordon & Others – lead counsel in multiple accused drugs case resulting from extensive police surveillance operation and where evidence at trial involved extensive use of complex multi-media presentation.

HMA v Lorraine McLaren & Others – lead counsel in mortgage fraud & money laundering case of such size and complexity that the trial lasted for 20 months.

HMA v Mikey Hoc – lead counsel in multiple complainer rape case including a particularly serious or aggravated charge due to the extreme vulnerability of the particular complainer.

HMA v Aaron Dunn & Others – lead counsel in case relating to multiple allegations of rape and neglect involving the taking of evidence on commission from three very young child complainers
Academic qualifications
LLB (Honours),
University of Strathclyde
Diploma in Legal Practice, University of Strathclyde
Certificate in Regulatory Law & Practice, University of Aberdeen
LLM in International Commercial Law with Professional Arbitration
Skills, University of Aberdeen
Professional bodies
Advocate Depute 2004- 2006
Senior Advocate Depute 2006 -2010
Approved Instructor, Faculty of Advocates' Training & Education
Programme 2007 – present
Committee Member, Faculty of Advocates' Criminal Bar Association,
2006 – 2008
Committee member, Faculty of Advocates' Professional Standards
Committee, 2016 - present
Direct Access
Kevin McCallum QC (Scot) is qualified to accept instructions directly from members of the public and professional clients under the Direct Public Access scheme.
More Information